From its humble origins in 1901, Yeo Hiap Seng (Yeo's) has now become synonymous with the food & beverage industry both locally and internationally.
Taking root from a small little shop making soya sauce to the leading home-grown food & beverage company that it is today, the history of Yeo's is the epitome of what dreams, hard work and perseverance can amount to.
Founded by Yeo Keng Lian in Zhangzhou in the Fujian Province of China, the small scale proprietorship was renowned for its quality product, a practise that is vividly upheld till today.
A man of great foresight, Yeo boldly ventured into foreign soil and in 1935, set up the Yeo Hiap Seng Sauce Factory in Singapore which soon flourished and quickly expanded into Malaysia in 1940s.
Through the never-ending innovations of the company, Yeo's made a name for itself by being a pioneer in many aspects. Yeo's was the first to offer canned curry chicken to consumers. It was also the first in the world to offer bottled Soya Bean Milk and Chrysanthemum Tea, making it convenient and readily available for mass consumption. Yeo's was also the first company in the world to package its Asian drinks in tetra-brik aseptic containers using the UHT process.
From soya sauce to the soya bean drink, Yeo's slowly diversified into food and beverage products which included a series of Asian traditional beverages made from natural ingredients and herbs, and a wide range of products from chilli sauce, soy sauce, culinary sauce, sesame oil and instant noodles.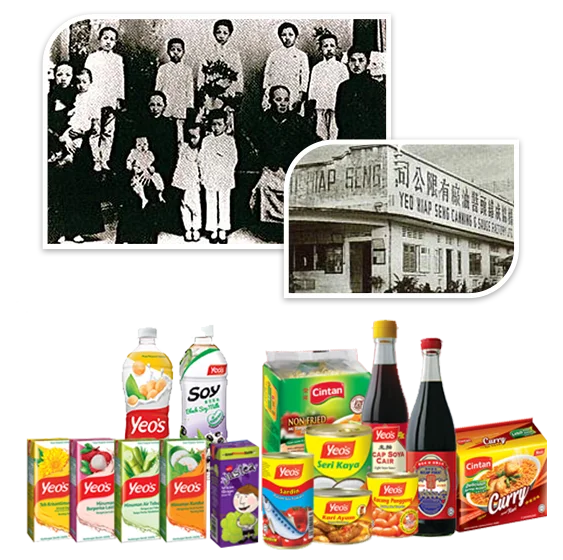 Having already made a name for itself in Malaysia and Singapore, Yeo's took the bold step to establish joint ventures with several foreign companies as well as establish direct overseas operations in countries such as Indonesia, Hong Kong SAR, China, Canada, the US and other parts of the globe.
Today, Yeo's Malaysia serves as an important manufacturing centre for Yeo's Global Distribution for Indonesia, New Zealand, Australia, Europe, IndoChina and the US, making it a leading food and beverage company with international presence.
What continues to make Yeo's a leader in its own right is its commitment to only manufacture products using the freshest ingredients in order to maintain the natural delicious taste and flavour. The company adheres to strict hygiene standards and stringent quality control to ensure the high quality of all its products. In anticipating consumer needs and providing consumer satisfaction, Yeo's is also committed to continuous research and development to further improve its products as well as keep abreast of the market trends.
All these aspects form the core values and culture that the company was founded on more than a hundred years ago, and which till today continues to remain the stronghold of Yeo's success both locally and internationally.

With a significant market presence in the ethnic market and in line with the government's aim to further develop the Malaysian halal brand as a global benchmark, Yeo's leverages on Malaysia's role as the world's Halal manufacturing hub.