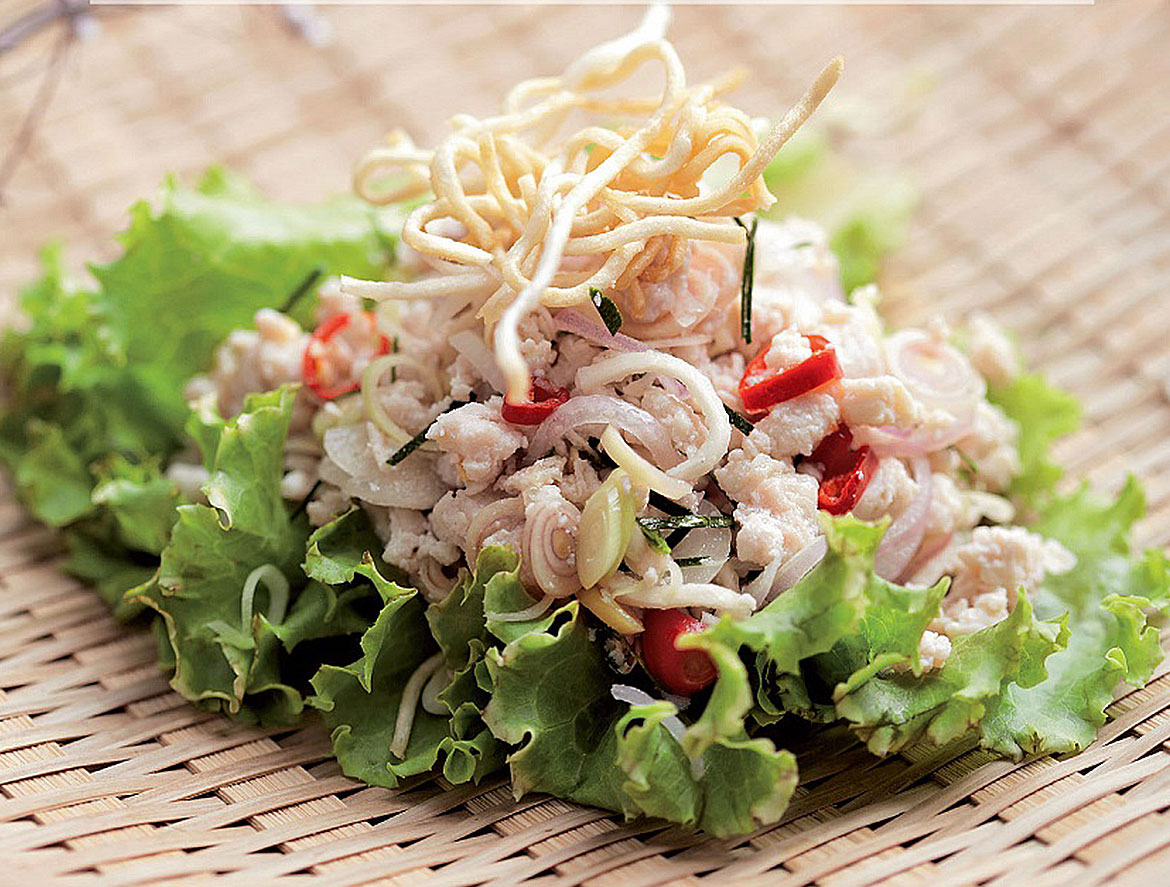 2 pcs Cintan Non Fried Noodles (cooked & drained)
500g chicken meat (minced)
6 shallots (finely sliced)
4 stalks lemon grass (finely sliced)
6 Kaffir lime leaves (finely sliced)
6 bird's eye red chilli (chopped)
a cup of coriander (finely chopped)
2 stalks lettuce
Seasoning
5 limes (squeeze for juice)
3 tbsps fish sauce
1 tbsp Yeo's Light Soya Sauce
3 tbsps sugar
Marinade for Chicken Meat
1 tsp cooking oil, a pinch salt, 60 ml water
初十五 翡翠财包(金旦面生菜包)
Cintan风干面 2 块(烫熟沥干)
鸡肉 500 克(剁碎)/li>
小葱头 6 粒(切细丝)
香茅 4 枝(切细丝)
疯柑叶 6 片(切细丝)
指天椒 6 条(剁碎)
莞荽茸适量
生菜 2 棵
调味料
酸柑 5 粒(挤汁)
鱼露 3 汤匙
Yeo's 生抽 1 汤匙
白糖 3 汤匙
鸡肉腌料
食油 1 茶匙、盐 1 小撮、清水 60 毫升
Heat sufficient cooking oil in a wok, using medium to high heat, deep fry Cintan Non Fried Noodles in pieces until crispy. Be careful as the noodles will become crispy immediately. Remove from oil and drain on plate topped with paper towels.
Separate lettuces 'leaves from its head and wash. Keep in refrigerator until needed.
Marinate minced chicken meat for 20 minutes.
In a saucepan, cook the chicken meat until marinade gravy dries.
Remove the meat to a bowl, leave it to cool. Toss together with the rest of ingredients.
Add in seasonings to taste. Then, add some Cintan Non Fried Noodles crisps.
To Serve
Place a spoonful of chicken mixture onto salad leaf. Sprinkle some Cintan Non Fried Noodles crisps on top, wrap-up and eat immediately)
起锅热油,小心以中火把烫熟的Cintan风干面炸至酥脆,紧接捞起放在备好的碟子及纸巾上吸干油。
另外把生菜剥叶,取整片,洗净后收入冰箱待用。
鸡肉碎加入腌料拌匀腌 20 分钟。
把鸡肉碎连腌汁一起煮至干透,熄火。
把鸡肉碎放入碗里待冷却,然后加入其他材料拌匀。
加入适量调味料,然后加入少许炸 Cintan 风干面。
吃法
把鸡肉碎料盛在生菜叶,再撒上少许酥炸Cintan 风干面包着吃。