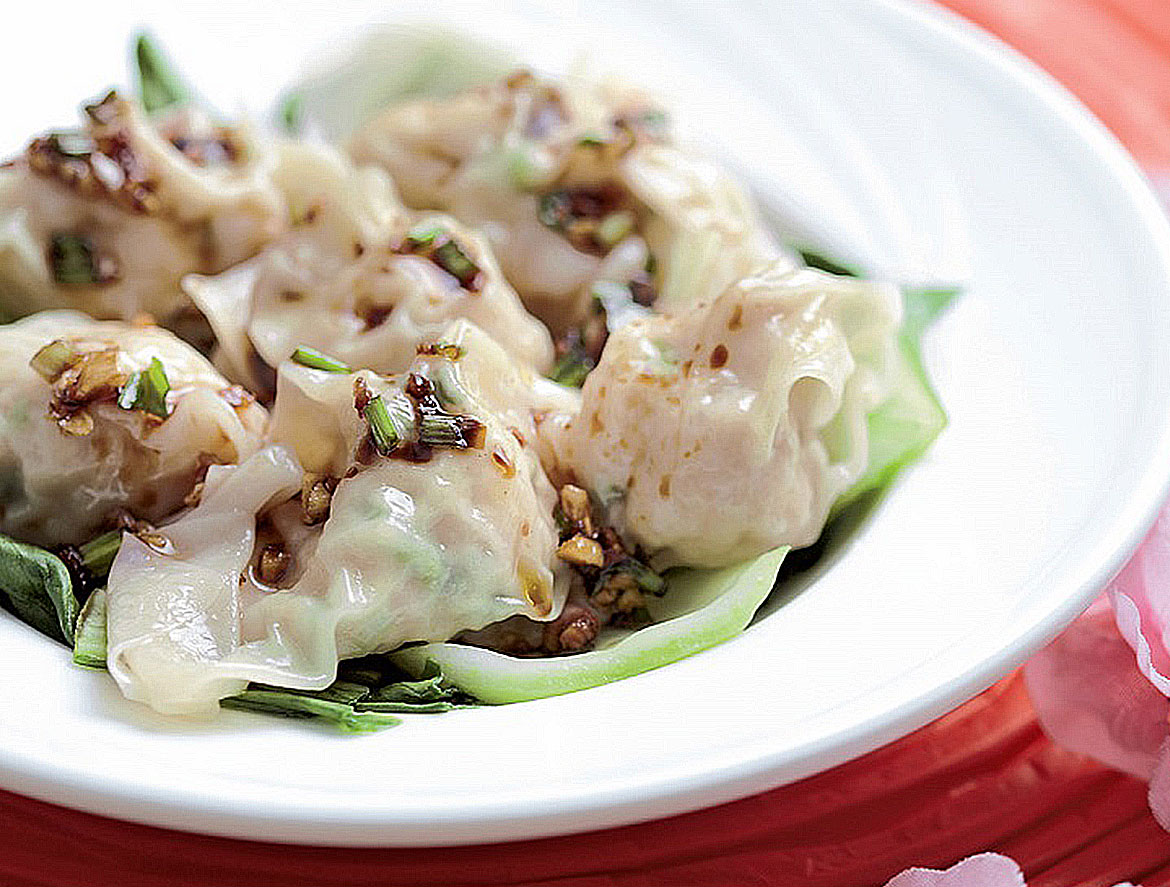 1 pc Cintan Non Fried Noodles
100g prawn meat (minced)
1 tbsp finely minced fresh ginger
1 tsp cornflour
200g chicken meat (minced)
1 tsp sesame oil
½ tsp ground white pepper
2 tbsps chopped coriander leaves
1 tbsp chopped spring onions
½ tsp salt
30-35 wanton wrappers (store-bought)
3-4 stalks choy sum (blanched )
Sauce Ingredients
3 tbsps Szechuan peppercorns + 2 tbsps cooking oil
1 tbsp fresh ginger (finely chopped),
1 tbsp garlic (finely chopped),
2 tbsps Yeo's Light Soya Sauce
1 tbsp Yeo's Dark Soya Sauce
5 tbsps sweetened black vinegar
½ tsp sesame oil
1 tbsp sliced spring onions
1 tbsp coriander leaves
2 tbsps chilli oil from Szechuan peppercorns
初二 元宝满盘(金旦面云吞)
Cintan风干面1 块
虾肉 100 克(剁碎)
姜茸1汤匙
栗米粉 1 茶匙
鸡肉碎200克
麻油1茶匙
胡椒粉½茶匙
莞荽茸2汤匙
青葱粒1汤匙
盐½茶匙
现买云吞皮 30-35 片
菜心 3-4 棵(川烫)
酱汁材料
四川花椒3汤匙 + 食油2汤匙
姜茸1汤匙
蒜茸1汤匙
Yeo's 生抽 2 汤匙
Yeo's 晒油1汤匙
黑甜醋5汤匙
麻油½茶匙
青葱粒1汤匙
莞荽茸1汤匙
四川辣油2汤匙
To Prepare Sauce
Heat 2 tbsps cooking oil in a wok, over low to medium heat. Saute Szechuan peppercorns till fragrant. Remove from heat and mix with other sauce ingredients.
Cook the Cintan Non Fried Noodles until al dente in hot boiling water, drain & snip to make them shorter.
Mix all filling ingredients together in a bowl. Stir towards one direction and combine well.
Put a teaspoon of the filling in the middle of the wanton wrapper. Repeat with the remaining wrappers, until the filling is used up.
Bring a pot of water to boil. Add 5-6 pcs of the wantons to the boiling water and stir immediately to prevent them from sticking to the bottom or together. Cook wantons until they rise to the surface. Remove cooked wantons and divide between bowls with some blanched choy sum.
Spoon sauce over the wantons and serve hot.
酱汁做法
起锅热2汤匙油,以低至中火把花椒爆香,然后过滤,把四川花椒辣油和所有酱汁材料混合即可。
煮滚水把Cintan风干面烫熟沥干水,然后剪短。
把全部馅料材料混合,然后以同一方向搅拌至起胶。
舀1茶匙的馅料放在云吞皮上,包起。重复步骤至材料用完。
煮一大锅水,每次只烫 5-6 粒面云吞,轻轻搅拌,以防止它们粘在一块,把已烫熟浮起的云吞分别盛入装了烫熟菜心的碗里。
把酱汁淋上即可趁热吃。