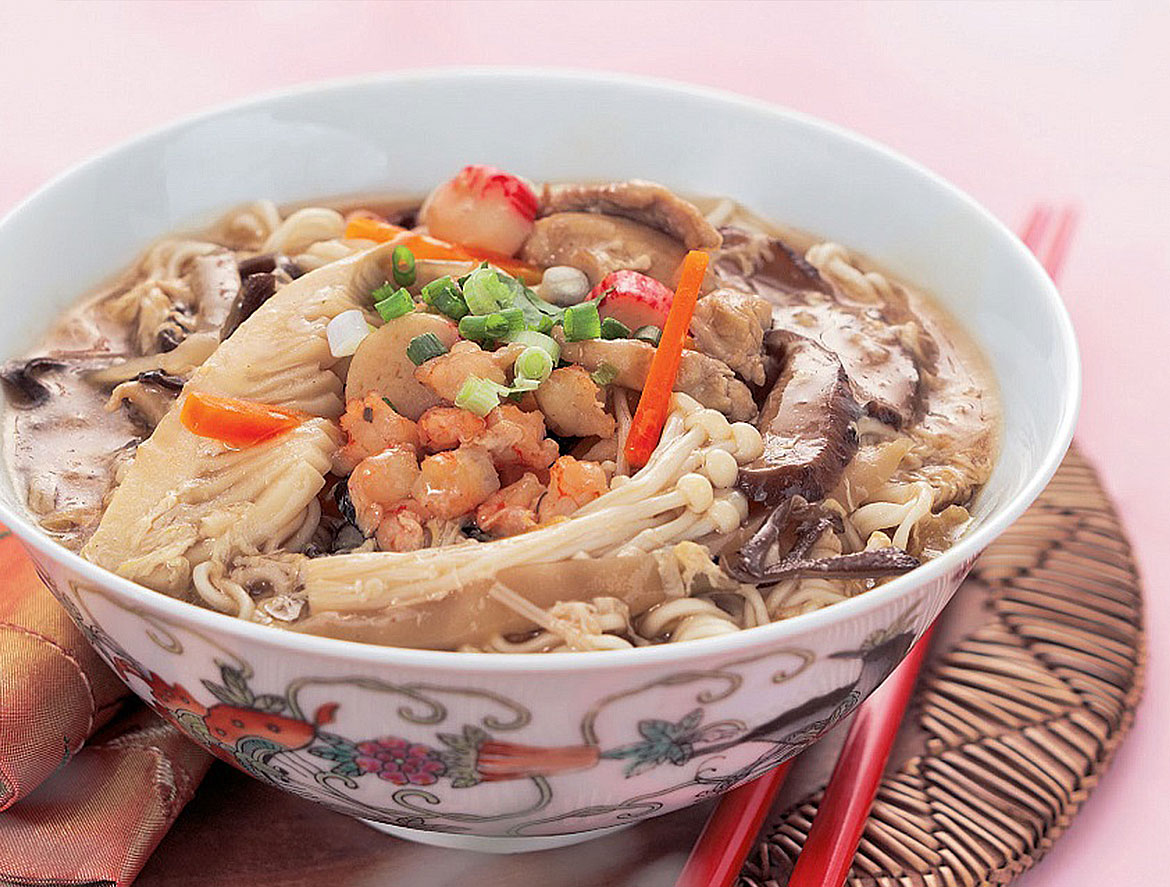 3 pcs Cintan Non Fried Noodles
4 slices ginger
½ tsp finely chopped garlic
1 tbsp oil
1.5 litres stock
2 eggs (lightly beaten)
Sub Ingredients
2 pcs Chinese mushrooms (soaked and shredded)
50g chicken breast meat (sliced)
10g black fungus (soaked and shredded)
60g bamboo shoot (shredded)
2 pcs filament crab sticks (cut into pieces)
20g Enoki mushrooms
30g Szechuan preserved vegetable (char choy, finely shredded)
25g carrot (shredded)
40g prawns (cut into cubes)
Garnishing
1 tbsp chopped spring onion, 1 tbsp chopped coriander
Marinade for Chicken Meat
½ tsp Yeo's Light Soya Sauce, ½ tsp sesame oil, ½ tsp cornflour
Seasoning for Soup – Combine
2 tbsp Yeo's Light Soya Sauce
¼ tsp Yeo's Dark Soya Sauce
1 tsp pepper
1 tbsp chicken stock powder
1½ tbsp Zhejiang vinegar or to taste
1 tbsp apple cider vinegar
2 tbsp chilli oil
1 tsp sugar
½ tsp salt
1 tbsp sesame oil
Thickening – Combine
2 tbsps cornflour, 1 tbsp tapioca flour, 4 tbsps water
初十二 四季平安(四川酸辣金旦面)
香菇 2 朵(浸泡切丝)
鸡胸肉 50 克(切片)
木耳 10 克(浸泡切丝)
竹笋 60克(切丝)
蟹柳 2条(切小段)
鲜金针菇 20克
榨菜 30 克(切丝)
红萝卜 25 克(切丝)
虾肉(切丁)
装饰
青葱粒 1 汤匙、莞荽茸 1 汤匙
鸡肉腌料
Yeo's 生抽 ½ 茶匙、麻油 ½ 茶匙、粟米粉 ½ 茶匙
汤底调味料 – 混合
Yeo's 生抽 2 汤匙
Yeo's 晒油 ¼ 茶匙
胡椒粉 1 茶匙
鸡粉 1 汤匙
浙江醋 1 ½ 汤匙或适量
苹果醋 1 汤匙
辣椒油 2 汤匙
糖 1 茶匙
盐 ½ 茶匙
麻油 1 汤匙
勾芡 – 混合
栗米粉2汤匙、薯粉 1 汤匙、清水4汤匙
Bring water with salt to a boil. Add Cintan Non Fried Noodles and cook for 3 minutes. Drain and mix with some oil. Put aside.
Season chicken meat with marinade for 5-10 minutes.
Heat oil in a deep saucepan and cook marinated chicken until colour changes. Dish out and set aside.
Using the same pan, sauté ginger and garlic for 30-40 seconds. Pour in stock and bring to a boil.
Add in the combined seasoning for soup and all sub-ingredients. Cook to a simmering boil.
Add thickening mixture and pour in beaten egg gradually. Stir well.
Divide noodles into individual serving bowls. Ladle hot soup over, garnish with spring onion and coriander leaves to serve.
煮一锅水,加入少许盐,把 Cintan风干面烫3 分钟至刚熟,沥干,拌入少许油,待用。
用腌料腌鸡肉 5-10 分钟。
起锅热油,把鸡肉炒至熟,盛出。
在同一个锅把蒜茸和姜爆香 30-40 秒钟,然后倒入高汤,煮至滚。
把汤底调味料混合倒入,再放入全部配料,煮至滚。
以勾芡材料勾芡后慢慢倒入鸡蛋液,搅散。
把面条分配入碗,淋上汤汁,再以青葱和莞荽装饰即可。