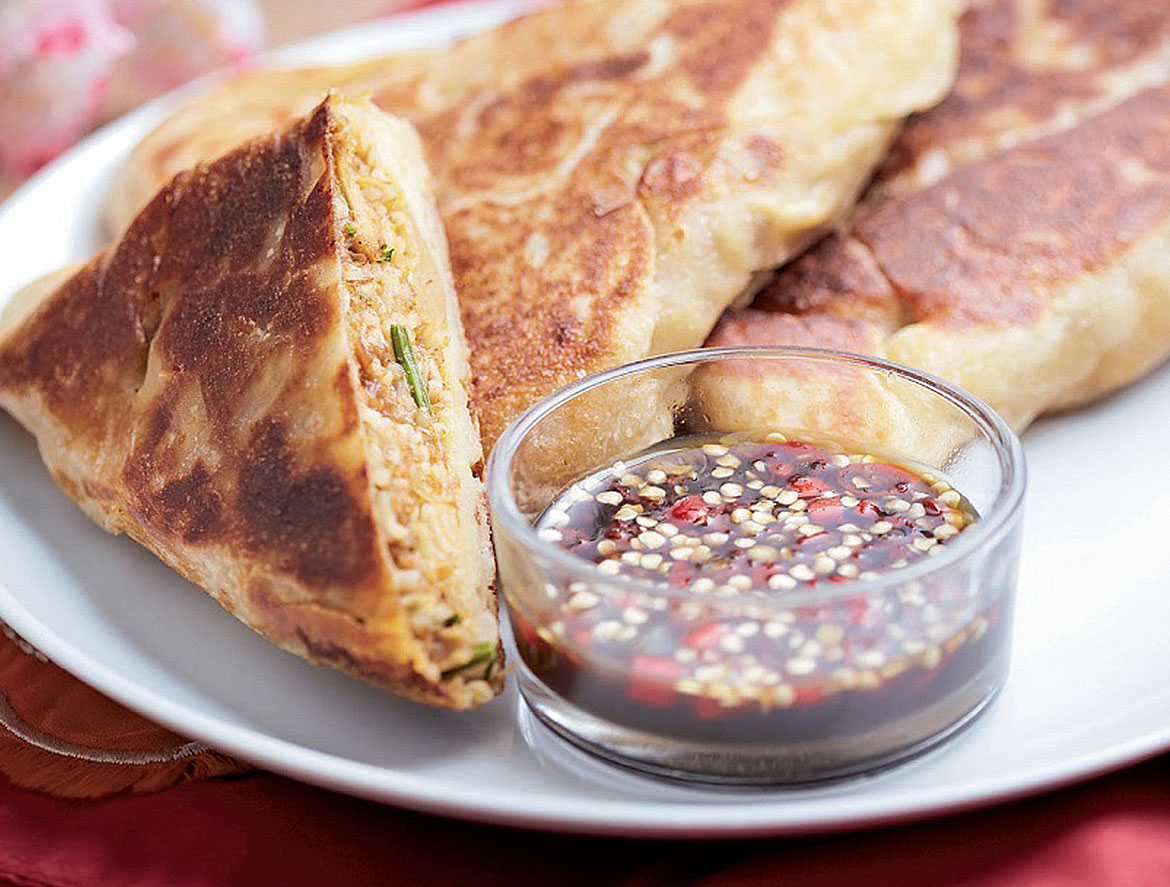 2 pcs Cintan Non Fried noodles (cooked and drained)
1 "Grade A" egg
½ onion (sliced)
2 cans Yeo's Chicken Curry
1 sprig curry leaf
2 tbsps chopped celery leaves
salt & sugar to taste
5-6 pcs roti canai dough (store-bought)
Dipping Sauce – Combine
3-5 bird's eye chilli
5-6 tbsps Worcestershire sauce
2-3 tbsps sugar
5-6 tbsps Calamansi lime juice or to taste
初八 金碧辉煌(煎饼面)
Cintan风干面 2块(烫熟沥干)
A蛋 1粒
大葱 ½ 粒(切片)
Yeo's 咖哩鸡肉 2 罐
咖哩叶 1 束
芹菜茸 2 汤匙
盐与糖适量
现买印度煎饼面团 5-6 粒
蘸酱 – 混合
指天椒 3-5 条
英国洋黑醋 5-6 汤匙
白糖 2-3 汤匙
桔子汁 5-6 汤匙或适量
Debone all the chicken pieces from the Yeo's Chicken Curry can. Mash the chicken meat, combine with onions, curry leaves, chopped celery leaves, egg & drained Cintan Non Fried noodles. Pour half of the curry sauce from the can, use only half of it, adjust salt to taste.
Spread out roti canai dough on a clean surface and put the filling into a triangle shape.
Wrap up the roti canai dough and pan fry with some cooking oil in a non-stick pan, turning over until all sides are crispy. Serve the parcels with the dipping sauce.
把Cintan泰国酸辣汤快熟面煮至刚熟后沥干,拌入调味料,置放一旁。把 Yeo's咖哩鸡肉去骨,捣烂,然后和大葱,咖哩叶,芹菜茸,鸡蛋及滴干的Cintan风干面混合,再倒入罐头内一半的咖哩汁,以盐适量调味成馅料。
把印度煎饼面团在干净桌面擀平,放入Cintan风干面馅料铺成三角形。
把印度煎饼折成三角形状,然后以不粘锅煎两面至酥。配蘸酱吃。