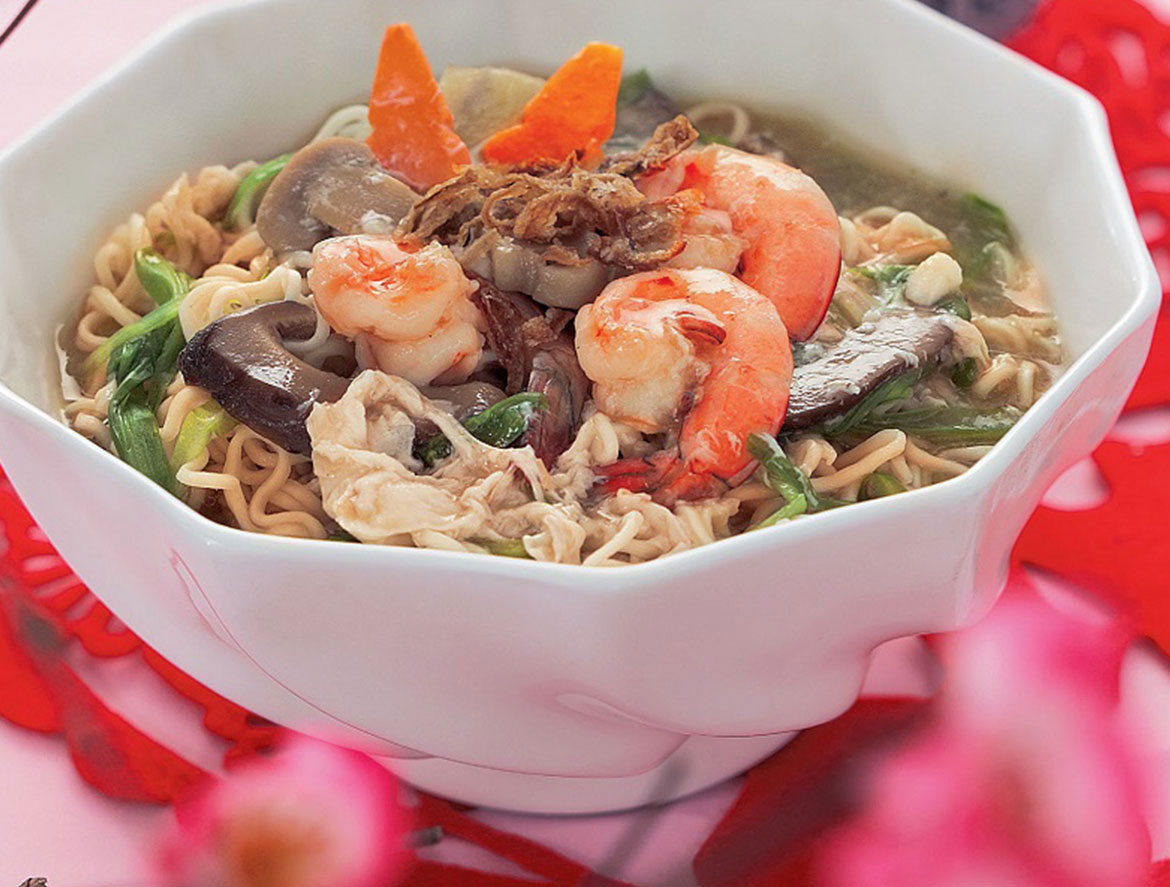 3 pcs Cintan Non Fried Noodles
5 slices ginger
1 tsp chopped garlic
2 tbsps sesame oil
6 medium prawns (shelled and deveined with tails left intact)
30g carrot (sliced into desired shapes)
2 Chinese mushrooms (soaked and shredded)
4 button mushrooms (sliced)
50g green chives (cheng long choy, cut into 3 cm lengths)
Seasoning Stock – Combine
800ml chicken stock
1 tsp Shao Hsing Chinese wine
½ tsp salt
½ tsp sugar or to taste
2 tbsps concentrated chicken stock
¼ tsp pepper
1 tbsp Yeo's Light Soya Sauce
Thickening – Combine
2 tbsps cornflour, 50ml water
初十一 欢聚一堂(杂锦汤面)
Cintan风干面 3块
姜 5片
蒜茸 1茶匙
麻油 2汤匙
中虾 6只(去壳去除虾肠留尾)
红萝卜 30克(切花)
香菇 2朵(浸泡切丝)
蘑菇 4粒(切片)
青龙菜 50克(切3公分长段)
调味汤 – 混合
鸡高汤 800毫升
绍兴花雕酒 1茶匙
盐 ½茶匙
白糖 ½ 茶匙或适量
浓缩鸡汤 2汤匙
胡椒粉 ¼ 茶匙
Yeo's 生抽 1 汤匙
勾芡 – 混合
粟米粉 2 汤匙、清水 50 毫升
Bring a pot of water to a boil. Add a few drops of oil and a pinch of salt. Cook Cintan Non Fried noodles for 2 minutes or until al dente. Drain and set aside.
Heat sesame oil in a saucepot, sauté garlic and ginger till fragrant.
Drizzle in Shao Hsing Chinese wine and add in prawns. Stir fry briskly.
Add carrot, all mushrooms and combined seasoning stock. Bring to a boil.
Add in Cintan Non Fried Noodles, green chives and the thickening mixture.
Stir well and ready to serve.
煮一锅水,加入少许油和盐,把Cintan风干面烫 2 分钟至刚熟,盛出。
另外热锅,用麻油把蒜茸和姜爆香。
灒入花雕酒,加入虾快炒。
加入红萝卜、所有菇类及调味汤煮至滚。
加入Cintan风干面及青龙菜,然后勾芡。
拌均盛出上桌。