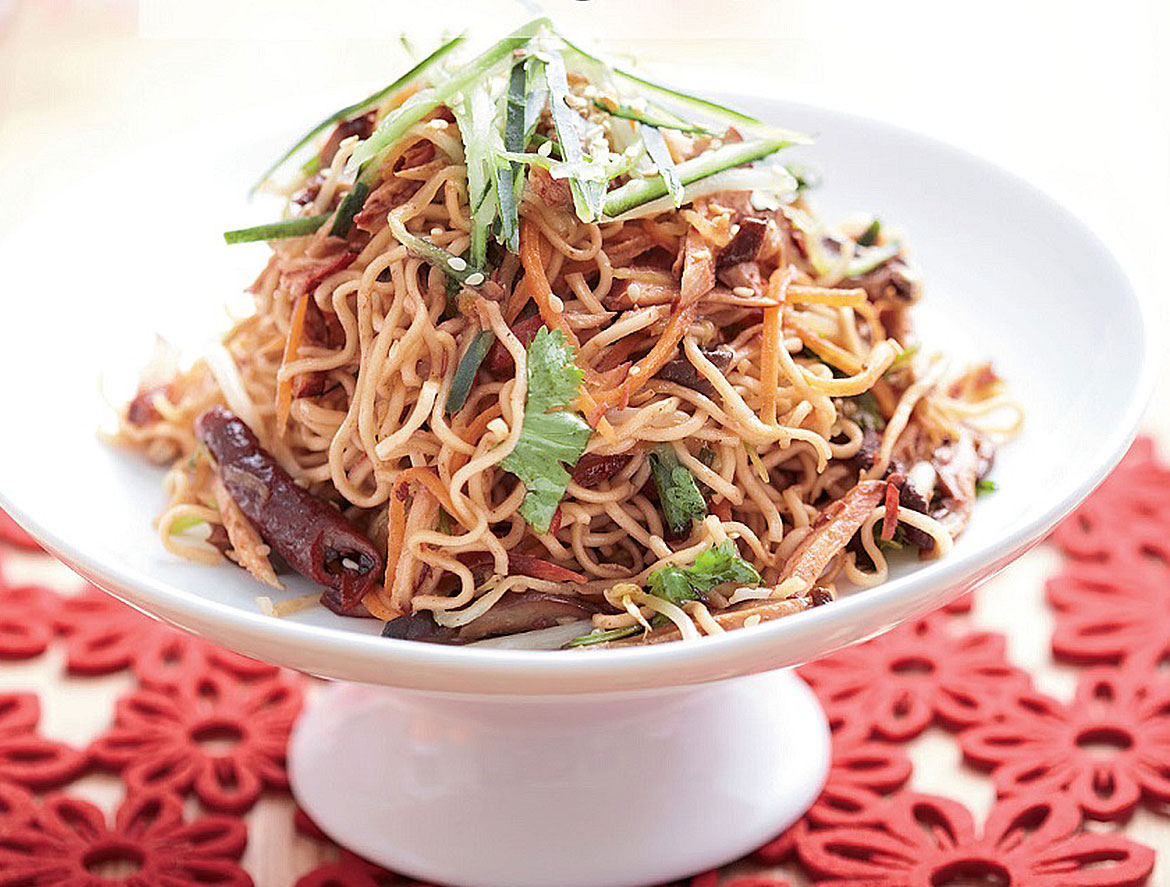 2 pcs Cintan Non Fried Noodles (boiled & drained)
2 cloves garlic (chopped)
2 tbsps cooking oil
3 pcs dried mushroom (soaked & julienned)
3 tbsps oyster sauce
2 tsps sesame oil
2 tsps Yeo's Light Soya Sauce
Sub Ingredients
200g store-bought CharSiu Chicken (julienned)
a dash of ground pepper
50g bean sprouts (cleaned & drained)
50g carrots (julienned)
100g cucumber (julienned)
Garnishing
2 sprigs coriander leaves (thinly sliced)
2 tsps toasted sesame seeds
初九 万寿延年(金旦面沙律)
Cintan 风干面 2 块(川烫熟沥干)
蒜头 2 瓣(剁碎)
食油 2 汤匙
香菇 3 朵(浸泡切丝)
蚝油 3 汤匙
麻油 2 茶匙
Yeo's 生抽 2 茶匙
配料
现买鸡肉叉烧 200 克(切丝)
胡椒粉少许
豆芽 50克(洗净)
红萝卜 50 克(切丝)
青瓜 100 克(切丝)
装饰
Boil Cintan Non Fried Noodles in hot water and drain.
Heat oil in a wok or pan, sauté chopped garlic and the mushrooms till fragrant. Remove from wok.
Combine the hot Cintan Non Fried Noodles, carrot and mushroom into a mixing bowl. Add in oyster sauce, sesame oil, Yeo's Light Soya Sauce and pepper.
Then add in all sub ingredients, mix well.
Top with coriander leaves & sesame seeds just before serving.
将Cintan 风干面放入沸水中煮熟,捞出沥干水。
起锅热油,把蒜茸和香菇炒至香,盛出。
将Cintan 风干面放入大盆中,与红萝卜和香菇混合。加入蚝油,麻油、Yeo's 生抽及胡椒粉拌匀。
然后加入所有配料混合均匀。
出桌前撒上莞荽叶和烤芝麻即可。