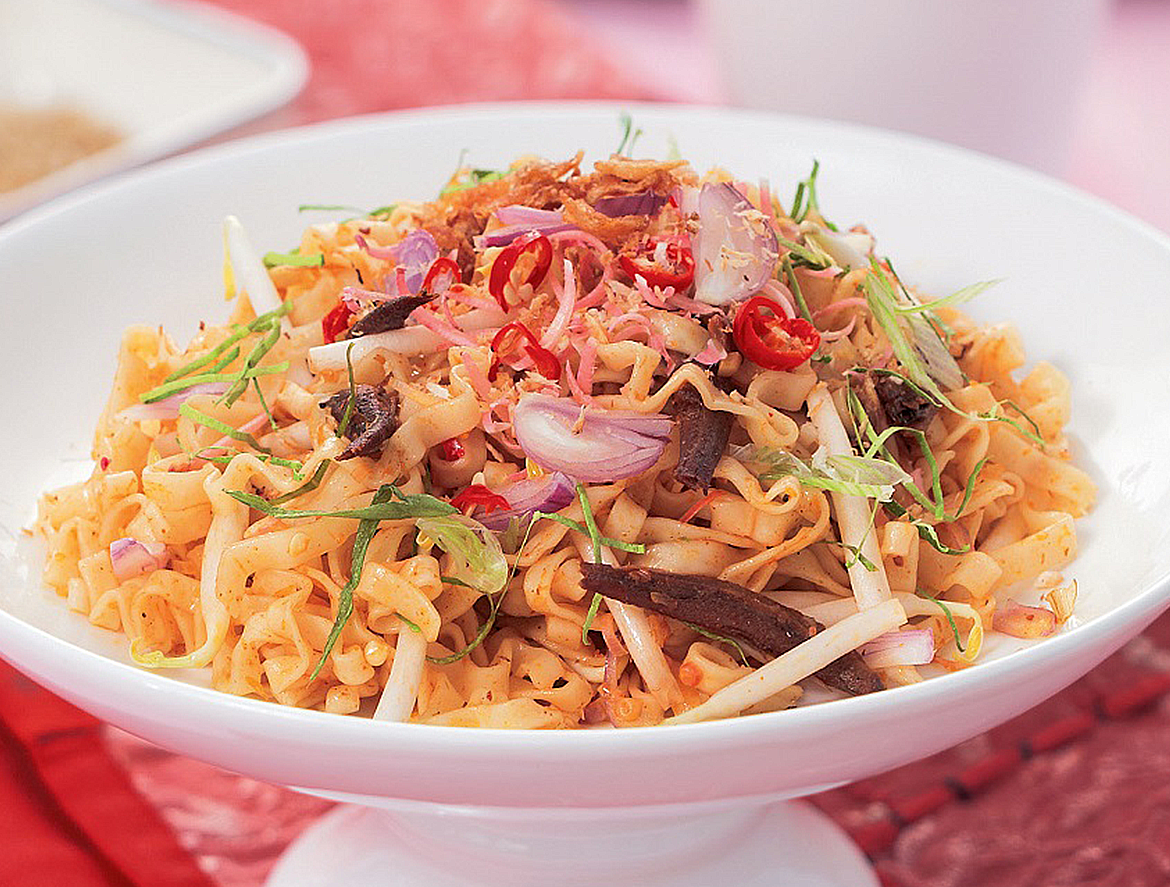 3 pcs Cintan Non Fried Broad noodles
30g dried prawns (soaked and chopped)
3 tbsps oil
1 can Yeo's Sambal Anchovies
2 limes (squeezed for juice)
1 tbsp Yeo's Light Soy Sauce
1½ tbsp Yeo's Sweet Yellow Bean Paste (finely chopped)
Sub Ingredients
4 shallots (finely sliced)
50g bean sprouts (blanched and drained)
2 tbsps desiccated coconut
4 bird's eye chilli (finely chopped)
1 red chilli (seeded and finely sliced)
4 kaffir lime leaves (finely shredded)
30g wild ginger buds 'Bunga Kantan' (finely shredded)
初十四 鸿运当头(开胃捞面)
Cintan风干宽面3 块
虾米 30 克(浸泡剁碎)
食油 3 汤匙
Yeo's 参巴江鱼仔 1 罐
酸柑 2 粒(挤汁)
Yeo's 生抽 1 汤匙
Yeo's 甜豆酱 1 ½ 汤匙(剁碎)
配料
小葱头 4 粒(切片)
豆芽 50 克(烫熟沥干)
椰丝 2 汤匙
指天椒 4 条(剁碎)
红辣椒 1 条(去籽剁碎)
疯柑叶 4 片(切丝)
叻沙花 30 克(切丝)
Boil a pot of water. Add a few drops of oil and a pinch of salt. Cook Cintan Non Fried Broad noodles for 3 minutes or until al dente. Drain and put aside.
Heat oil in a pan, cook the dried prawns until crispy.
Add Yeo's Sweet Yellow Bean Paste and Yeo's Sambal Anchovies. Stir fry until fragrant. Serve in a large bowl.
In the same bowl, add in Yeo's Light Soy Sauce and lime juice.
Add Cintan Non Fried Broad noodles and all sub ingredients.
Toss and mix evenly. Dish out into individual serving bowls and serve hot.
煮一锅水,加入少许油及盐,把 Cintan风干宽面川烫 3 分钟至刚熟,沥干备用。
起锅热油,把虾米炒至香脆。
加入Yeo's 甜豆酱和 Yeo's 参巴江鱼仔,炒至香后盛出,放入大碗中。
拌入Yeo's 生抽和酸柑汁。
加入Cintan 风干宽面及全部配料
拌匀后盛入碟子趁热吃。