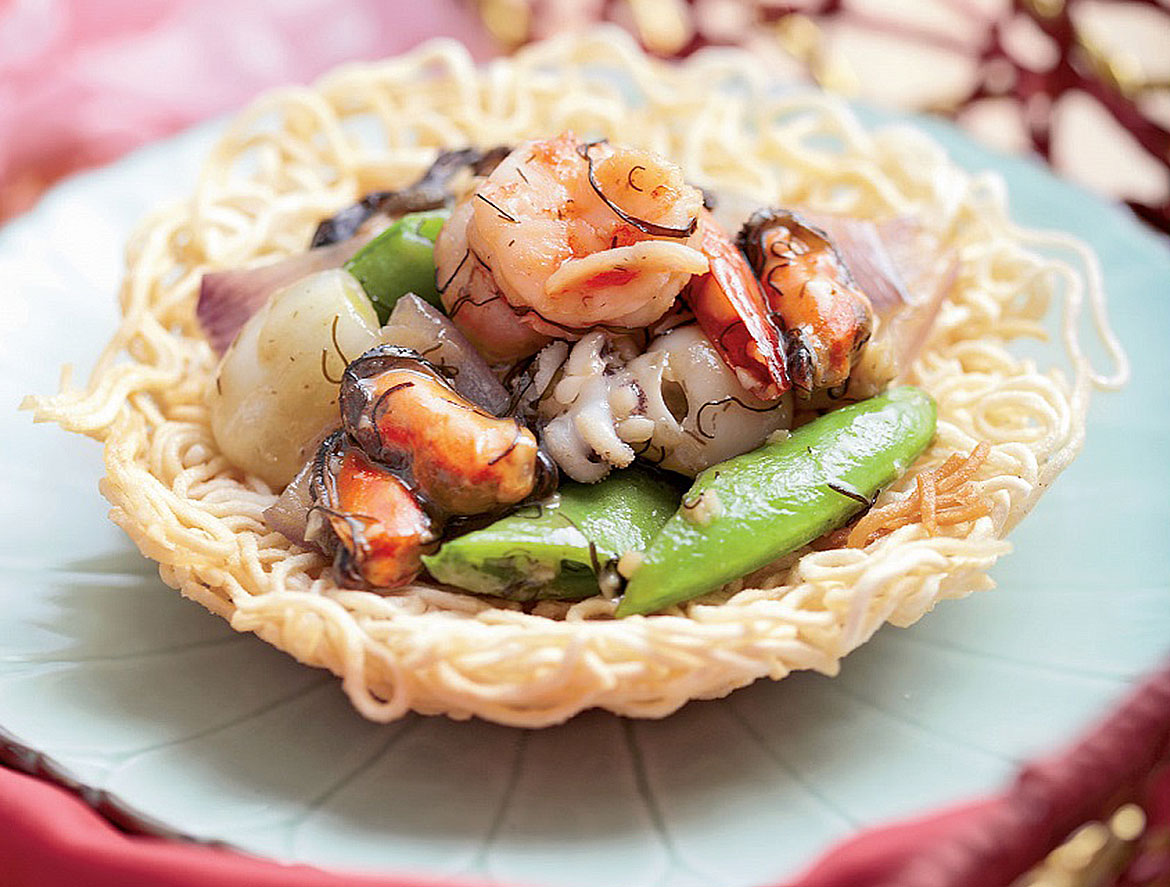 Ingredients For The Noodles Basket
2 pcs Cintan Non Fried noodles (cooked & drained)
cooking oil for deep frying
2 large strainer / sieve
Filling Ingredients
2 tbsps cooking oil
2 cloves garlic (chopped)
1 big onion (cut into wedges)
150g medium sized prawns (peeled and deveined leaving tail intact, marinated with ¼ tsp sugar)
10 large scallops
150g fish fillet (sliced into 1cm thick, marinated with ¼ tsp cornflour & pepper and oil)
80g mini crab claws
50g sweet peas (halved)
2g black moss 'fatt choy' (soaked in 2 tbsps water)
Seasoning For The Filling – Combine
1½ tbsp abalone sauce,
2 tsps Yeo's Light Soya Sauce,
¼ tsp sugar,
¼ tsp of ground white pepper,
100ml stock,
½ tsp cornflour,
1 tbsp Shao Hsing Chinese wine, salt to taste
初四 八宝聚盆(海鲜金福巢)
Cintan风干面 2 块(煮熟沥干)
炸油适量
金属大勺子2个以制面巢
馅料
食油 2 汤匙
蒜头 2 瓣(剁碎)
大葱 1 粒(切瓣)
中虾 150克(去壳去除虾肠留尾,以¼茶匙白糖腌妥)
大带子 10 粒
鱼柳 150克(切1公分厚,以¼茶匙粟米粉和胡椒粉及油腌妥)
小蟹钳 80克
甜豆 50克(切半)
发菜 2克(以2汤匙清水浸泡)
馅料调味料 – 混合
鲍鱼酱 1½ 汤匙
Yeo's 生抽 2茶匙
白糖 ¼ 茶匙
胡椒粉 ¼ 茶匙
高汤 100毫升
粟米粉 ½ 茶匙
绍兴花雕酒1汤匙、盐适量
To Prepare Cintan Basket
Heat sufficient cooking oil in a wok. Place Cintan Non Fried noodles in a strainer to make a basket.
Place the strainer in medium hot oil and press them with the help of another strainer.
Deep fry till golden brown. Remove from oil and gently remove the noodles basket from the strainer and transfer onto a serving plate.
To Prepare Filling
Heat oil in a wok. Garlic& onions till fragrant. Add in prawns, fish fillets, scallops and mini crab claws and stir- fry till cooked. Mix in seasonings. Put in remaining filling ingredients and stir well.
Once gravy thickens, turn off heat and transfer filling into the noodles basket. Serve immediately.
面巢做法
烧热足够的炸油,把勺子浸油后铺上一层煮熟的 Cintan 风干面。
当油烧至中热,把 Cintan 风干面泡油,再叠上另一个勺子夹着面炸成鸟巢形。
待面巢炸成金黄色后取出沥干油,放在碟子上。
馅料做法
起锅热油,爆香蒜头和大葱,然后加入虾肉、鱼柳、带子和小蟹钳炒均,再加入混合的调味料及剩余馅料拌匀。
一旦酱汁转稠,即可熄火,把馅料舀入 Cintan 风干面面巢中,马上享用。