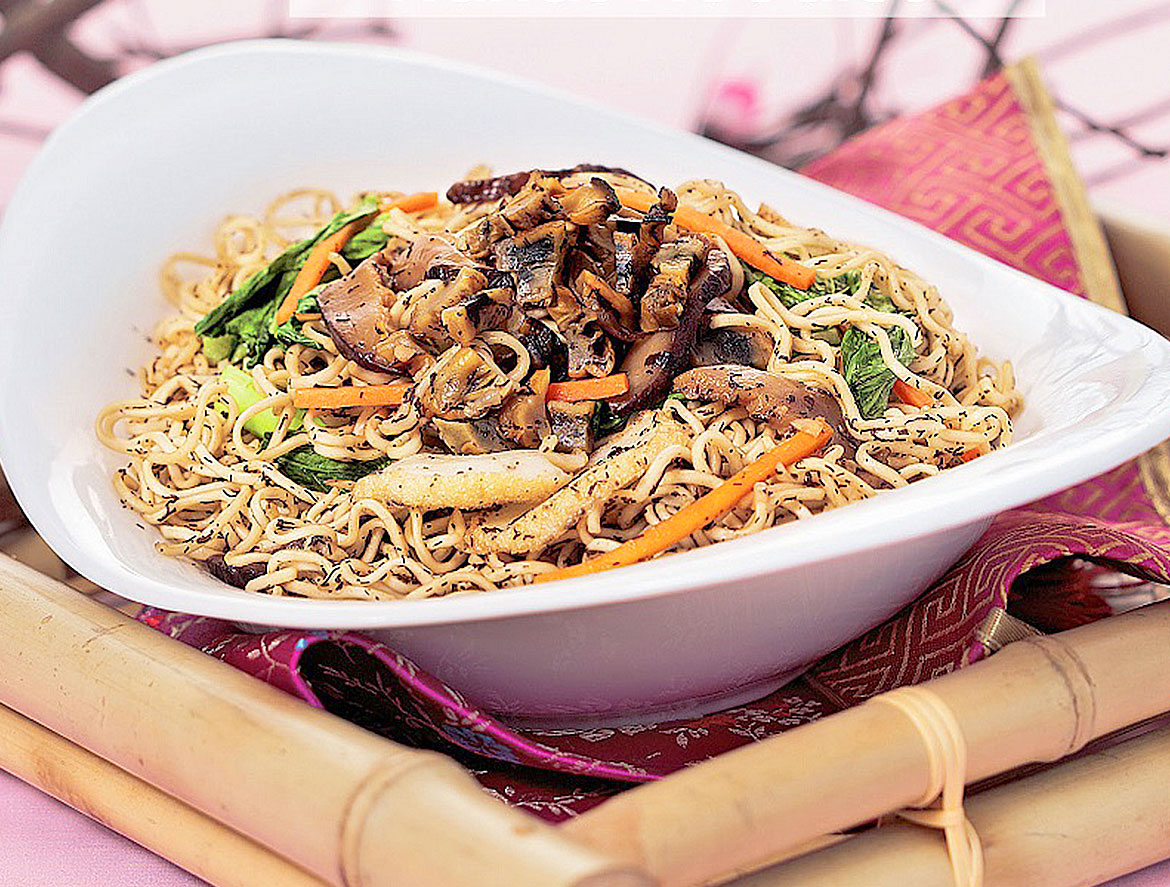 3 pcs Cintan Non Fried Noodles
1 tsp chopped ginger
1 tsp chopped garlic
3 dried oysters (soaked and diced)
1 Chinese mushroom (soaked and sliced)
2 pieces fish cake (sliced), 25g carrot (shredded)
2 stalks choy sum (cut into sections)
2g black moss 'fattchoy' (soaked)
Seasoning Stock – Combine
1 tbsp Yeo's Light Soya Sauce
1 tbsp oyster sauce
¼ tsp Yeo's Dark Soya Sauce
½ tsp chicken stock granules
⅛ tsp pepper
¼ tsp sugar or to taste
100ml water
Garnishing
1 tbsp deep-fried shallot crisps
初六 好市发财(蚝鼓发菜炒金旦面)
Cintan风干面 3 块
姜茸1茶匙
蒜茸1茶匙
蚝干3粒(浸泡切丁)
香菇1朵(浸泡切丝)
鱼饼2块(切片)
红萝卜 25 克(切丝)
菜心2棵(切段)
发菜2克(浸泡)
调味汤 – 混合
Yeo's 生抽 1 汤匙
蚝油 1 汤匙
Yeo's 晒油¼茶匙
鸡粉 ½ 茶匙
胡椒粉 ⅛ 茶匙
白糖 ¼ 茶匙或适量
清水 100 毫升
装饰
Soak Cintan Non Fried Noodles until soft. Drain and put aside.
Heat oil in a wok, ginger and garlic until fragrant.
Add in dried oysters and mushrooms. Continue to fry for a while.
Pour in seasoning stock and add fattchoy.
Add in soaked Cintan Non Fried Noodles, fish cake, carrotand choy sum. Toss briefly.
Dish out and sprinkle some shallot crisps over.
把Cintan风干面泡水至软,沥干待用。
起锅热少许油,把姜和蒜头爆香。
加入蚝干和香菇,继续炒一会。
倒入调味汤和发菜。
加入Cintan风干面、鱼饼、红萝卜及菜心,炒均。
盛出后撒上炸油葱即可享用。